Iron Security Doors
Add Security and Elegance Wrought Iron Security Door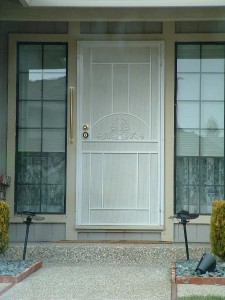 For estate homes, adding a wrought iron security door will bring an elegant, yet secure statement to your home. From pre-designed to custom wrought iron security door design, wrought iron delivers weather resistant beauty.
Adding a wrought iron security door will not only increase the value of your home, it will add beauty and style to the presentation of your home. Wrought iron security door design offers durability and security for homeowners. These doors weather any storm and will not buckle or warp in the hot summer heat. High-quality wrought iron security door design is made with the expertise of professional artisans.
Combining old-world style with modern day manufacturing processes, wrought iron entry door design adds charm to Spanish, Colonial and Tuscan style homes. In addition, a quality wrought iron security door can be complemented with a similar themed wrought iron entry gate for security and privacy. Often the choice of many luxury homeowners, a wrought iron entry door and security gate blends the theme of the home with the protection of remote control and code access entrance.
While there are many designers and manufacturers to choose from, be sure to choose the resource that provides quality products and service.